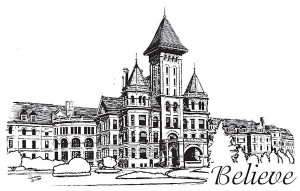 Dear Friends of Fergus Falls,
Our community – those who call Fergus Falls home and those who call it hometown – has the opportunity to meaningfully participate in Saving the Kirkbride!
The historic Kirkbride is a landmark on the Fergus Falls Regional Treatment Center Campus that makes Fergus Falls unique across the globe. A redeveloped Kirkbride will be much more than a nod to posterity; it will become an economic engine strengthening many sectors of our local economy: healthcare, arts, construction, education, business start-ups, and tourism, and it will have ripple effects through even more sectors.
The effort to save the Kirkbride has put Fergus Falls on the radar screen of the state and nation. A positive redevelopment effort and the initiatives that will be advanced in it on its completion will put Fergus Falls on the map as a cohesive, beautiful and forward-looking community where one would choose to live in both youth and retirement.
Let's bring this tomorrow to fruition by our contributions – today.
To realize these benefits, our community needs to raise $700,000. Mr. Ray Willey and Historic Properties will invest 41 million dollars of new money into our economy if we will contribute 1.7% of that amount. Tax deductible donations to reach this goal can be made payable to the Otter Tail County Historical Society with Historic Kirkbride in the memo line. These contributions will be used for historic building re-design and preparation dedicated to housing targeted non-profit programs among which are:
a mental healthcare museum (outlining care practices over the decades and more),
artist and community "maker spaces" (a shared equipment and facilities venue for creative pursuits – see reverse side of this letter for more complete details), and
a specialty culinary institute (designed to also support healthcare delivery and research).
Uniquely, these latter two programs, recognized today as critical to whole health, also reflect the initial philosophy of care practiced at this Kirkbride influenced Regional Treatment Center.
Working together, the financial goal is attainable. Raising the funds by coming together as a community around the goal will bring joy and foster a strengthened communitywide "can-do attitude." A redeveloped Kirkbride will engender acknowledgement from across the state and far beyond for how we honored history and bridged the past into our community's future.
The Save the Kirkbride Fund will
support the creation of a world-recognized destination.
THANK YOU FOR BELIEVING and CONTRIBUTING!
The Historic Kirkbride will be redeveloped to provide a home for non-profit and for-profit endeavors that will build on areas of strength within the Fergus Falls and regional economy.
Maker Space
The Historic Kirkbride will be home to Hinge Arts, West Central Minnesota's first ever Maker Space. A Maker Space is a creative hub where people can share resources, skills and equipment. Similar to a fitness center, "makers" of all types (woodworkers, artists, crafters, designers and more) who have a membership to Hinge Arts will enjoy access high quality equipment, tools, studio space, and supplies. In addition, classes, demonstrations and workshops will be available to the public, drawing visitors to Fergus Falls to learn new skills in everything from glass blowing to bookbinding to traditional folk arts. In addition to supporting the regional arts community, Hinge Arts will host international resident artists, and will present two events each year – a Holiday Maker's Market in December, and the Kirkbride Arts and History Weekend in September. Hinge Arts is currently an incubator program of Springboard for the Arts, and will eventually become an independent nonprofit arts organization.
Historic Kirkbride Museum
The Historic Kirkbride will also be home to the first mental health museum in Minnesota dedicated to the journey of mental health history. It will include permanent and changing exhibits and it will tell the history of The Kirkbride through artifacts and the stories of residents and staff who worked here over the decades. Mental health and mental illness have long been difficult topics of discussion. The museum will create a space where visitors may, through their experiential review of historical mental health treatment, develop an increased understanding of mental health issues in society today. One in four adults (approximately 61.5 million Americans) experiences a mental illness in a given year. One in 18 (about 13.6 million people) live with a serious mental illness such as schizophrenia, major depression or bipolar disorder. There are countless people in despair who have been labeled as mentally ill. Hearing the stories of others can change the outlook for a sufferer today and it can inform the dominant narrative about mental health that influences our whole society – changing it from hopelessness and chronic illness to wellness, resiliency and hope!
Culinary Institute
The importance of food in our health has always been recognized, but the discovery of its full impact, including the greater understanding of food as medicine, is in its infancy. Fergus Falls has a unique opportunity to develop a specialty culinary institute that contributes markedly to further insight into the impact of fine food that is also functional food. There are well qualified people, who are aware of the Historic Kirkbride redevelopment opportunity, who represent the culinary and medical research sectors as well as the healthcare sectors, who can see the potential for a destination specialty culinary institute to be created at the Historic Kirkbride.
Please give generously, to prepare the Historic Kirkbride for these opportunities.
Thank You!!!!
 Here is a Link to The Last Complete Proposal Submitted to the City Of Fergus Falls